AML Photo Competition.
Every month between the 1-19th submit a picture of your aml puppy/dog, for a chance to win a surprise prize! The winners will be announced on the 20th and you will find that here as well as our social media!
Each months theme will be different! September is for Labor Day! Send a picture of your pup with that theme!
To submit your picture..send us an email!
August Photo Contest Winner!!!
Congratulations to Harper and her family, you are the winners this month! You will be receiving your special gift in the mail! Now that you have won….please don't submit your puppy again, we want to give lots of other pups their time in the spotlight! Again Congratulations!
Harper has been a wonderful addition to our family! She's the sweetest little pup! Her favorite things include playing with her hooman sister and doggo brother, cuddling with her mom or dad and chewing on yak sticks! She also enjoys accompanying her mom to work everyday. She's a huge help when the days are long and stressful!
Welcome to Ashford Manor Labradoodles
We are a premiere, humane, and well-respected breeder of the beautiful and loving Australian Labradoodle.  Hundreds of families have found their "forever family companion" right here at Ashford Manor Labradoodles.  Find yours here, as well, and welcome to the family!
We have puppies available to go home right now and more on the way!  Yours may be waiting for you.
Find Out More
We Love Our Gorgeous Puppies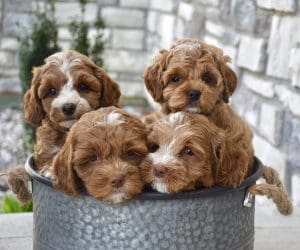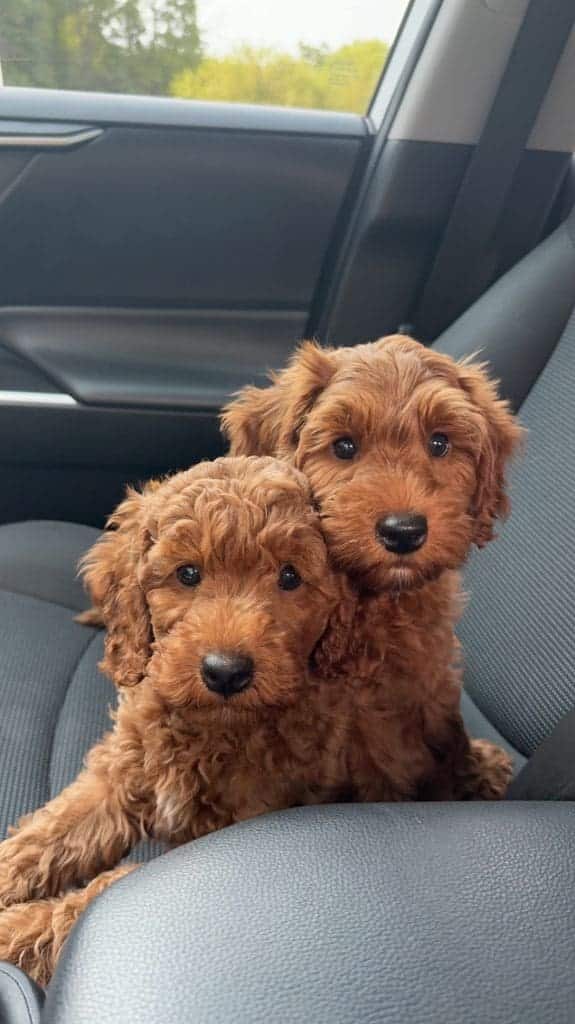 Take a look at a few of our cute puppies! Australian Labradoodles are naturally non-shedding and allergy friendly. They are fun loving, loyal, and intelligent, as well. Bonus!
We follow stringent breeding guidelines and work with highly competent veterinarians to select the best breeding stock for our puppies. As long-time members of the Australian Labradoodle Association of America, we set our standard skyhigh!
High Quality Services
Ashford Manor offers important services that benefit you, your puppy, and your family!
Puppy Bootcamp
Your puppy is already socialized and prepared for family life, but this takes it a step further. For an additional fee and in four weeks, your puppy will begin to know basic commands.
Grooming Services
Australian Labradoodles are groomed in a special way. Many groomers do not this, but we do. Try us out!
Nanny Delivery
When you can't come and pick up your puppy from Ashford Manor, you can hire a Puppy Nanny to personally deliver your puppy to you!
High Quality Products
Ashford Manor partners with only the best manufacturers of superior products for your dog.
It takes time to search for the best products for your dog. We understand that. We've been in this business for a long time, so we've had time to figure out which products are superior and collect them all right here on our site.
"Just wanted to tell you what a fantastic dog you sent me. She is amazing, wonderful, and adorable.  I've been taking her outside and letting her walk around so she'll get used to the New York hustle-and-bustle. Nothing seems bothers her: not the noise, car horns, police sirens, fire engines, or motorcycles.  She just LOVES being outside and tries to greet everyone. You should hear all the comments I get from people who stop me to ask what breed she is and tell me how cute and beautiful she is.
Don
"He is a great little puppy. He is totally crate trained, and has very rarely had an accident inside.  He slept the first night and every night from 11pm-6AM (better than any of my 4 kids)!  People with dogs say that we are very lucky and have such a great dog!"
Colm
"We are going to obedience class once a week and just love these times, as it really showcases how smart she is. (She is always the smartest one in the class as she is such a quick learner!)  Izzy is pretty much completely potty trained – she regularly rings the bells – though she has figured out that ringing the bells get her the attention she likes, so she does that for fun sometimes too."
Beth
"Bernie is doing great. He is just a doll and the grand kids love him."
Sue
"She is such a sweet dog, very intelligent and alert. Kids absolutely adore her – thank you for such a wonderful puppy."
Dorota
"Indy is absolutely great and is extremely smart. He's been using his bells and hasn't had an accident since the first day home! He's so brave and isn't afraid of anything! He's encountered lawn mowers, sprinklers, big and small dogs, about 40 or so people, and has done it all with a wagging tail."
Zach