Older Labradoodle Puppies
 We do have older trained puppies available at this time. Please contact us at 765-714-1436 today.
Redken
$4,824.00
Redken is a very gentle, dreamy fellow! He loves people and wants to be with someone at all times. Redken has beautiful eyes that watch his person to see what you want him to do. Redken is an amazing companion puppy. Redken will be 15 – 25 pounds full grown. He has a very calm temperament.
Redken is in our Boot Camp Program where he is learning sit, down, come, sleeping in a crate, potty outside, and more.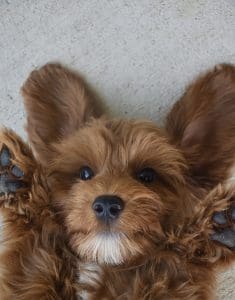 Olaplex (Ollie)
$6124.00
Ollie is going through our 4 weeks of puppy bootcamp, learning his name, sleeping in a crate, potty training, sit, down, come, take it, leave it, leash walking, and stay. Ollie is a mid energy puppy, he is very sweet and gentle. He loves treats and follows very nicely.  Ollie will be about 20 pounds full grown.
Ready to go home now!
We offer fully trained puppies with companion, therapy, and service level of training through Ultimate Canine. Please contact Ultimate Canine  at 317-443-6019 for more information.
 Find out more about receiving a fully trained therapy dog, or service dog please

click here

.
 Ashford Manor Labradoodles is Indiana's proud breeder of the Australian Labradoodle! Our puppies travel all over the United States as well as abroad to find their perfect homes.