We are very excited to announce we are working with a Master certified canine trainer for therapy dog teams as well as service dog teams.
We mini and medium service dogs who are in training and getting ready to go to work for their new family This process can take up to 9 months. 
Example: Riley is available as a certified psychiatric service dog. He can be used for PTSD, TBI, Anxiety, Depression, Autism with special skills in pressure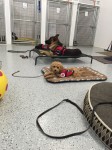 therapy, anxiety relief, shielding in public, behavior interrupting, attention getting etc. Riley is fully trained and certified to work in any public environment. Besides special skills, Riley has advanced obedience and great manners. He is trained to work and focus around distractions, crowds, loud noises, traffic, animals, etc. Riley has a very sweet loving temperament. He is very affectionate. When Riley is not working, he loves to play, cuddle or just lay by your side. He is very easy going and gets along easily with dogs of any size, cats and other animals. Riley easily adopts to his new environment and bonds quickly with a new handler. Riley's price including training for the new handler is $18,800.
Our Master Certified Trainer:
Our trainer, Julie, has been working with dogs for over 20 years and is one of the best in the country. Julie is able to train dogs in many different fields below is a list of a few of them:
therapy dog team
service dog teams
companion dogs
police dogs
bomb dogs
obedience training
problem behaviors
house manners
and just about anything else you can think of!
Find out more about Julie Case and her

training programs
with Ashford Manor Labradododles !