TLC Dog Food
At Ashford Manor Labradoodles we choose to feed our Australian Labradoodles a premium pet food. This food is delivered to your door, it has not been recalled in the over 20 years that it has been produced, it is all human grade!
Because this food is stocked in the manufacture warehouse and sent directly to you, it is always fresh. You do not have to worry about how long it has been sitting on shelves in stores. Food does not sit in their warehouse more than 6 months! What more can you ask for? Click on this link to receive $5.00 off when you tell them who sent you!
This food is made in Canada and if you are on the East Coast or Midwest you will receive it within 2 or 3 days. If you are on the West coast it may take as long as a week to receive your food. You can set up on auto ship and never have to think about it again.
We use biscuits from TLC Pet Food that the dogs loves as well, for puppies we use them for crate time or when they need a longer snack. We use the TLC regular food, not the puppy food. 
Dog food is vital to a dogs health! It is important to stay on this food for at least 6 months to help digestion.
Paw Tree
Paw Tree products are developed by Veterinarians and PhDs in Animal Science and Pet Nutrition to ensure your fur baby thrives, not just survives from puppy stage but to golden years. We have partnered with Paw Tree to give our pups the best nutrition we can! 
We feed our puppies a combination of Paw Tree and TLC food. If your dog has any food allergies or if you would like a weight management food, this is a great option. It is a top quality food that is shipped directly to you. Also, Australian Labradoodles can be picky eaters, we use the Paw Tree seasonings when they are!
Visit our link!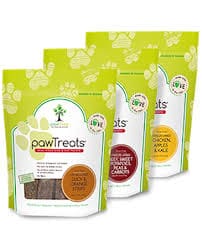 NuVet Supplement
We believe in keeping your dog healthy from the inside out and this includes not only the food they eat but taking supplements as well. These supplements are human grade, never had a recall, and help fight against free radicals!
Our Australian Labradoodles take a NuVet supplement daily from the time they are eating soft food until the day they go home. Their is no better way to keep your pet healthy than to feed a proper diet and a good quality supplement!
We use the NuVet powder on our puppy food as we are feeding multiple puppies. We recommend you purchase NuVet Wafers as they are easier to give to one puppy. A bottle will last you 90 days to know how frequently to set up your auto ship. You can use this as a treat or break it up and give it to them on their morning food.
NuVet Supplements are essential in keeping your pet staying younger, shinier coat, immune booster and healthy teeth!

Or call 800-474-7044 with ID Code: 34445
Life's Abundance Treats & Shampoo
The treats we use are called Life's Abundance Dog Treats, that are also shipped to your door.  If you have a very picky eater you can try the
Life's Abundance canned dog food, this is what we give the puppies early on in their little lives.
Life's Abundance is located in Florida and has warehouses throughout the country, you get your food in just a few days. You can set up on auto ship and never think about your treats again.
We use Turkey & Berry Chewy treats and shampoo from Life's Abundance that all of the dogs
love as well.
Wash N Zip Pet Bed
Wash N Zip pet bed is a great bed for your Australian Labradoodle whether in their crate or on the floor. This bed is completely washable! They even have a "puppy proofer" which is a cover to keep puppies from chewing the zipper. Visit the website at washnzippetbed.com and put in the code ASHFORD15 for 15% off!
mini 24″ – $50.00 plus s/h
medium 36″ – $70.00 plus s/h
standard 48″ – $100.00 plus s/h
Ashford Manor Leather Leash
This is a 6′ leather leash with braided ends. This is what we use in training our puppies. It is one of the best training tools we can recommend and this leash will last a lifetime!
To purchase one of these ($30.00) leather leashes please call Cheryl at Ashford Manor Labradoodles 765-714-1436.
Bella Bowls
6 inch stainless steel bowl set. $15 for the set of two. Color options (purple, brown, burgandy)
To purchase one of these bowl sets please call Cheryl at Ashford Manor Labradoodles 765-714-1436.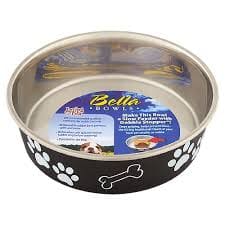 Bandanas
We have handmade bandanas for every season! Different sizes (xs, s, m, l, xl) to fit each of your pups.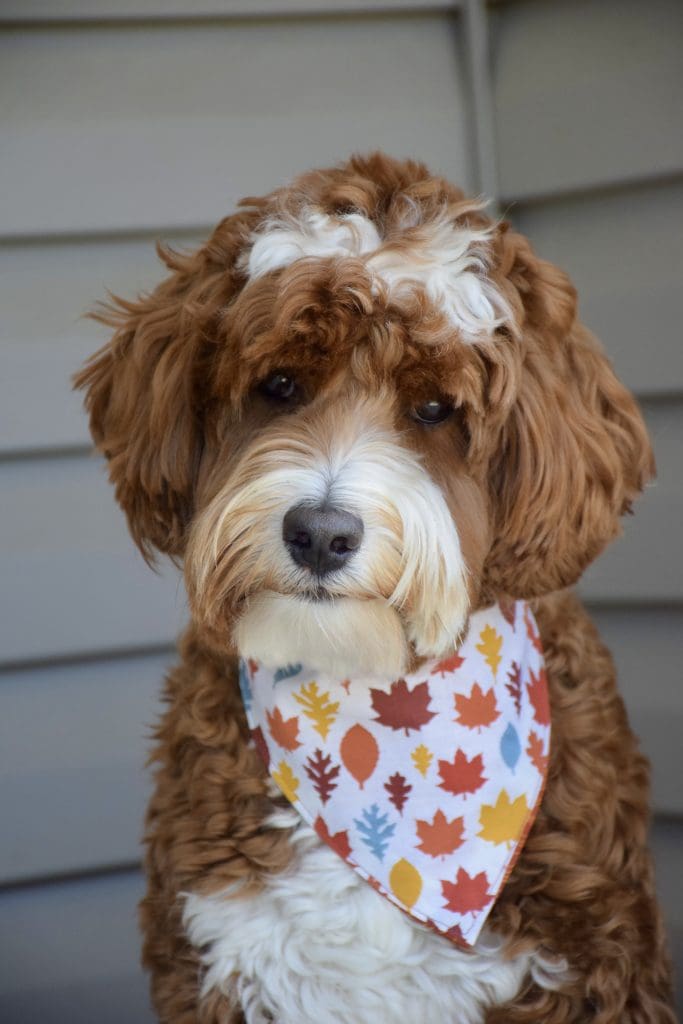 Make Your Life Easier Product Packages
Over the years we, at Ashford Manor Labradoodles, have tried many different products with our dogs and puppies. As with any products some we like and others we do not. We know how overwhelming going to the pet store can be.
We have our favorite products that our tried and true and hold up to our expectations. We want to make your experience fun with your puppy so we have picked some of our favorites and made up some packages. You can purchase these packages and we will ship them to your home so you can be ready for your puppies arrival.
Recommended Products
Everyone loves a well trained pet, but how do we achieve that? With a little work in the beginning and consistency you too can have the best dog ever! Australian Labradoodles love to please! Make sure you reward continually for anything you like!
Poochie Bells are the best way to house train your puppy! We love our Poochie Bells! Click on the picture to receive free shipping and a coupon!
Kuranda beds are a great place for your dog to keep your pet off the floor, gives joint support, and they are easy to clean. I like the mini size that is 20 x 30 or the 25 x 30 which is the medium size. Our puppies are used to climbing up on these and resting or wrestling!
If you are going to be taking your puppy home without using one of our great trainers we want to make sure that you train your Australian Labradoodle properly. We have teamed up with Ultimate Canine for an elite level of training, this is all levels of training starting at a 5 week elite level of training. We have a puppy boot camp for those who just want the few basics trained before their puppy goes home, this is a 4 week training program. And then we have Aly's Puppy Boot Camp for those who would like to train their puppy in their own home.