Paprika's last litter has arrived!
This is Paprika's last litter, she has been mated with Seattle's Blue Blazes who we own. Paprika has had a previous litter with him before and produced beautiful puppies. Ashford Manor's Oriole is from this litter. Here is a picture of Oriole, a previous Paprika/Blaze puppy.
Oriole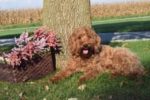 This is her current litter. They are all spoken for. These are apricot/red large mini – small medium multi-gen Australian Labradoodles.
Paprika's Last Litter with Blaze
Cheryl Sabens
Ashford Manor Labradoodles
Midwest Australian Labradoodle Breeder
765-714-1436