Please read the following if you are looking for a service dog for you or your family member.
Riley the Service Dog
Riley is a certified psychiatric service dog. He can be used for PTSD, TBI, Anxiety, Depression, Autism with special skills in pressure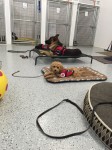 therapy, anxiety relief, shielding in public, behavior interrupting, attention getting etc. Riley is fully trained and certified to
work in any public environment. Besides special skills, Riley has advanced obedience and great manners. He is trained to work and focus around distractions, crowds, loud noises, traffic, animals, etc. Riley has a very sweet loving temperament. He is very affectionate. When Riley is not working, he loves to play, cuddle or just lay by your side. He is very easy going and gets along easily with dogs of any size, cats and other animals. Riley easily adopts to his new environment and bonds quickly with a new handler. To inquire more about a dog like Riley, please contact our trainer Julie Case at 317-443-6019.
Riley is a non-shedding allergy friendly Australian Labradoodle service dog for Autism, Anxiety, Depression, TBI, and PTSD. 
Cheryl Sabens
Ashford Manor Labradoodles
765-714-1436