Barbecue, Holidays, and Dogs
During this quarantine, holidays, and weather getting warmer the barbecues are smelling wonderful! Having a puppy or dog around a grill is not a safe option. When we are finished grilling we want to get the food served to keep it warm, the grill is sill hot and can be hazardous to dogs as they do not know any better than jumping up to smell the food. If you have a grill that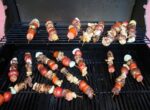 collects drippings the dogs can knocked over and also be a bad situation.
Keep bones, scraps, matches, garbage, hand sanitizer, charcoal, and sharp objects, poisonous containers, away from your dogs. If you have a puppy make sure they have a safe area away from the grilling area. A leash with a clip tied to a safe place is a good option.
A few tasty dog treats can be special for your doodle. A little bit is more than enough, do not give to much as they are not used to table food. Some things that you can give to your Australian Labradoodle as they are safely away from the grill are:
hot dogs
hamburgers
fish
zucchini
carrots
sweet potatoes without skin
blueberries
strawberries
watermelon
ice cubes
Your Australian Labradoodle will enjoy these delicious snacks! 
Be smart when you have your dog outside. Sometimes people are lighting off fireworks, make sure your Australian Labradoodle feels safe. If they need to go inside or sit on your lap, be prepared to make that happen. If it is hot outside make sure they have access to plenty of fresh water and shade.
If you are having people over, and social distancing of course, make sure that your dog is in a safe place so they cannot run off. Some dogs see an open door and like to run out, don't take the chance of loosing your pet.
Cheryl Sabens
Ashford Manor Labradoodles
765-714-1436