America's Anniversary Celebration
Tis the season to celebrate the 4th of July! This is a great time to see fireworks, spend with friends and family, and enjoy cookouts.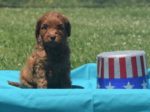 It is also a time where many dog owners worry about their canine companions and how they will handle the large crowds, the big booms from fireworks, and all of the commotion.
Here at Ashford Manor Labradoodles we work hard at getting your Australian Labradoodle ready for many things, including the 4th of July celebrations. We have fireworks playing multiple times a day and we have gun shots during their 8 week stay with us to get them exposed to these sounds.
So what can you as pet owners do?
If your canine companion is very fearful there are several things to do:
Enjoy the fireworks from a distance and away from the crowds
Play soft calming music for your dog in an interior room where they feel safe and cannot hear all of the commotion
Purchase a thunder shirt to help reduce stress levels
Put Young Living Essential Oil – Lavender on their paws
Over-the-counter remedies from your veterinarian
Did you know?
That most dogs are lost on July 4th? Dogs run away from fear, door gets left open, or family members think other members have the dogs.
Keep your pet safe, know where they are and make sure they are safe!
Here at Ashford Manor Labradoodles we work hard to keep you informed on dog food recalls, your pets health and safety, and training tips. We love our Australian Labradoodles and want to make sure that our puppy families are as educated as possible. We want you to not have to worry about your dog and enjoy the holidays stress free.
Other things to think about with 4th of July Celebrations
Make sure your dog is not able to get to the smorgasbord of food
Keep glow sticks/necklaces away from your dog as they are harmful if ingested
Keep your windows and doors closed and your canine in a safe place
Happy Birthday America!
Cheryl Sabens
Ashford Manor Labradoodles
Australian Labradoodle breeder
765-714-1436