Australian Labradoodles & The Robertson's?
Here at Ashford Manor Labradoodles we do not have time for television so we have not had it for 8 years now. We are much to busy loving on our puppies watching an occasional video now and again. Our puppies keep us entertained
too! Our neighbor introduced our eldest son to a television show, called Duck Dynasty, because he is an avid hunter for anything that is legal and moves!
Our eldest son began getting his brothers to go down the street and watch it, then the sisters, then Mom and occasionally Dad too! For Christmas they purchased each other Duck Dynasty signage, shirts, and 3 seasons of videos. Whew, what a Duck Commander Christmas was in the Ashford Manor Labradoodle home in 2014!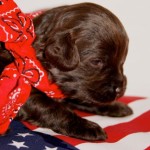 Things have not stopped there, we continue to watch Duck Dynasty or the recorded version of it every week. It is a great time for us to spend as family enjoying each other and a family that has been built on moral principles and not scared to admit their faults. We are all human, and we all mess up … a great lesson for all of us is to admit when we mess up.
So, we have been watching for a litter of our Australian Labradoodle puppies that would work with the names of the people in the Robertson family. Hmmm, most of them have dark hair and a few have lighter hair. So, guess what … the perfect litter has arrived and they are stunning!  Check out the camoflage gear on our version of the Robertson clan!
Enjoy our Duck Dynasty Clan as much as we do!
At Ashford Manor Labradoodles we pride ourselves in raising our Australian Labradoodles in our own home. We are not a kennel, we are a responsible breeder. Ashford Manor tests all of our adult breeding dogs to ensure we are producing the premium puppy for every environment. Whether you want a therapy dog, a hunting dog, or a therapy companion, we have a canine companion for you. Breeding is not taken lightly around here, it is a gift from heaven!
Our Duck Dynasty puppies will mature to be large mini and small medium in size (25 – 35 pounds). The color variations will be: chalk (white), caramel, chocolate, lavender, parchment, and cafe. All of our puppies are non-shedding, and allergy friendly. We are proud members of the Australian Labradoodle Association of America, the Premium Breeders List, and Goldendoodles.com.
Cheryl Sabens
Ashford Manor Labradoodles
Australian Labradoodle Breeder Indiana
765-714-1436