Pet Costumes
Pet Costumes can be a fun part of this holiday. Make sure that you have put your costume on your pet prior to the day you plan on trick-or-treating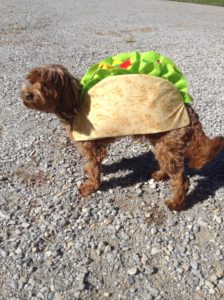 with your dog. They need to be comfortable in their costume. Ensuring a proper fit is very important for your canine. Use a costume with velcro that is easy to take on and off. Make sure your dog is always on leash outside.
Human Costumes
Sometimes seeing people in costumes can be a scary thing for your dog. Also, there are a lot of odd sounds on Halloween that can be scary for your canine companion. When you are outside make sure that they are on a leash with you. If you are keeping them inside make sure they are put in a place they cannot run out the door if they become afraid, a crate is a safe place for them.
If you are walking with a puppy during trick-or-treat hours they may want to go after costumes that are moving or strings hanging from costumes. These all look like toys for puppies and you need to make sure that you are not allowing them to jump on others.
Sweet Treats
Be careful that your pet does not get a hold of any human treats this Halloween season. Chocolate, hard candy, can be very dangerous for your dog. Some people give away dog treats, this can be an option if you have a lot of dogs in your neighborhood.
Pumpkins, Candles, and More
Tis the season for candles, pumpkins, gourds, and corn cobs! All of these things help make the fall season; although they can be harmful for your dog.  Candles are very exciting for dogs because they keep moving and some tend to go after the flame. This could mean a burn for your pet. Pumpkins, gourds, and corn cobs if ingested by your dog good be harmful. They could block airways and digestive tracts.
Make sure your dog is microchipped & register it!
Please know where the nearest 24 hour vet emergency clinic is in case of an emergency.
Cheryl Sabens
Ashford Manor Labradoodles
Australian Labradoodle Breeder
765-714-1436