This is a picture from one of our guardian families of our medium apricot Australian Labradoodle. She is resting with her pillow and sprawled out on the couch! She is currently expecting and will be having puppies in about 2 week. She is a fantastic girl with a great temperament. Angel will be having mini and medium Australian Labradoodles in cream, apricot and red colors.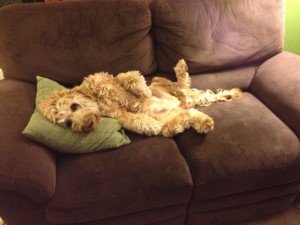 Angel weighs 35 pounds, she is a
medium Australian Labradoodle!
Cheryl Sabens
Ashford Manor Labradoodles
Indiana's Australian Labradoodle Breeder
765-714-1436