What wonderful news I received this morning as I awoke while on our family Florida vacation! Angel's guardian family alerted me that Angel is in heat! This means that in the next week or two we will be bringing Angel and Blaze together for this first meeting. This will be Angel's second litter of puppies and Blaze's first! He is ready for mating as he is over a year old and Angel knows what to do.
Meet Ashford Manor's Angel a medium Australian Labradoodle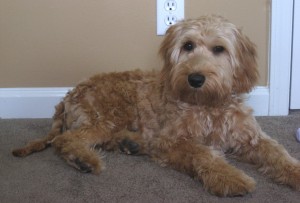 Angel lives with our guardian family here in Lafayette, Indiana. She has a Mommy, Daddy, Brother, Sister, and a lab playmate! She is in love with her family and takes good care of them to make sure they are always safe. Angel loves to run around outside, play in the leaves in the fall and the snow in winter. She claims the couch when no one else is using it and lays on her back with her feet straight up!
Meet Blaze, Ashford Manor's newest male addition!
Blaze is a male multi-gen Australian Labradoodle with a gorgeous red fleece coat. He is very mild mannered and is co-owned with Kari Lambert at Aussie Labradoodle. He has come to us from Jan at Shedless in Seattle, thank you Jan! Blaze is living with his guardian family in Columbus, Ohio. He has a wonderful disposition.
Together Angel and Blaze will be having gorgeous puppies!
medium Australian Labradoodles
Cream, Apricot and Red colors
wonderful temperaments
wavy fleece coats
non-shedding
allergy friendly
Find our more about reserving a space on this litter!
Call Cheryl at 765-714-1436 or visit our purchase page.
Cheryl Sabens
Ashford Manor Australian Labradoodle
Indiana's Responsible Breeder of the Australian Labradoodle
765-714-1436