We have three gorgeous Australian Labradoodles
available right now!
Our puppies are well on their way to being crate trained, leash trained, and potty trained! We do extensive amounts of socialization to prepare them for your home. Raising a puppy is not easy, although we make it easier! We also work on puppy nipping and try to do a lot of correction in this area before they go home as well.
Australian Labradoodles are non-shedding, allergy/asthma friendly dogs. They are very quick to train and get acclimated to any home swiftly.
Mini Chocolate  Australian Labradoodle Available
  This is Dark Chocolate, he is our mini chocolate Australian Labradoodle puppy who is available right now. He has been microchipped, neutered, first 2 rounds of vaccinations!
Dark will weigh about 30 pounds and stand 17″ tall.
Dark has a wonderful temperament, he is a little shy right now because he is smaller than the other puppies. Once he gets out on his own his littler personality will blossom. Dark loves to snuggle.
Our trainer has evaluated that dark would make a wonderful therapy dog. He is calm and settles well. He would make a wonderful addition to any home.
Standard Australian Labradoodles Available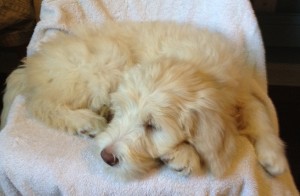 Meet Coconut, he is a standard size Australian Labradoodle puppy. He is a caramel color with a rose nose and light colored eyes.
Coconut is a very relaxed puppy! He has a delightful temperament and settles quickly.  Coconut loves to play and also snuggle on your lap.
Coconut's favorite thing is a lick stick! He will do just about anything for a little lick of goodness!
  This is Trinidad! He is a standard size Australian Labradoodle. He is chocolate in color as he matures he will turn into a beautiful Parchment color like his mom, Brandy.
Trinidad is going to mature to around 40 – 50 pounds. For us, this is huge, considering our dogs are all under 35 pounds!  He will stand around 20″ tall.
Trinidad is very playful and also settles well. He likes to play with everything .. especially if it moves! We are working with Trinidad on his sitting, and laying down right now in preparation for his new home.
Call us today at 765-714-1436 to see who is still available!