We have had 11 puppies from Ashford Manor's Sapphire and Brantley Michael! They are gorgeous as their parents are. We have 10 puppies that are shades of chocolate and 1 puppy who is a cream color.
Sapphire and Brantley
This is their first pairing and we are excited to watch them grow and see the shades of chocolates.
Sapphire and Brantley Puppies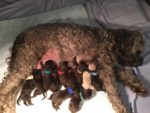 This is a great litter for allergy and asthma sufferers as they will mostly have curly fleece coats. A curly fleece coat is a better coat for those who have allergies to dogs.
We have availability on this litter. 
For more information visit our purchase page.
Cheryl Sabens
Ashford Manor Labradoodles
Australian Labradoodle Breeder
765-714-1436