From all of us at Ashford Manor Labradoodles we wish you and your family a Happy 4th of July! We may not have fireworks show and festivals to go to this year but we can still celebrate the great nation we live in.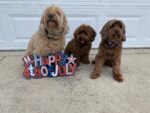 It is important to keep your dog safe during the holidays. You certainly can give your dog a few treats during the celebrations. Some snack ideas are:
Sweet potatoes no skin
Apples no skin
Carrots – cooked or raw
Berries
Melon – no seeds
Meat with no bones and limited amount
Cheese in small amounts
Be careful to watch your pets and make sure they do not run out when the door is open and people are going in and out. Also, make sure they do not get to close to the grill or fireworks to get burnt.
Happy 4th of July America!!
Cheryl Sabens
Ashford Manor Labradoodles
Australian Labradoodle Breeder in the Midwest
765-714-1436