No Socialization Before 12 Weeks?
Let me preface this by saying, your Australian Labradoodle puppy is very intelligent. Before they leave our facility at Ashford Manor Labradoodles, they are given their first round of vaccinations. When you take them home they will be ready for their second shot. Their is one more shot that they will need at 12 weeks of age.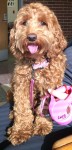 It is very important to keep socializing your puppy. I do not recommend taking him anywhere that could be dangerous, such as the inner city, where not all dogs have been vaccinated. I also would not recommend going to the dog park.
If you have a trainer that will come to your home or offer private classes that is excellent. We have a trainer we recommend who does their training on Skype.
It is important to keep working on socialization the things we recommend for this are: getting them used to noises and smells in your home; if you will be taking him to work with you take him for short periods to get used to sights and sounds their as well; take him in the car with you; put on your winter coat; pop up your umbrella; wear sunglasses and a baseball hat. Keep doing things to socialize your puppy.
Cheryl Sabens
Ashford Manor Labradoodle
Indiana's Australian Labradoodle Breeder 
765-714-1436