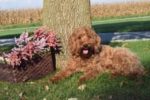 Here are new pictures of Oriole that we just took today. She is absolutely gorgeous! She weighs 29 1/2 pounds, stands 19 1/2″ tall, and is a beautiful red color. She has a wonderful temperament, very obedient little girl.
We have been taking her for progesterone testing as we will
soon be breeding her. She is great in the car, at our home, in public, everywhere. She loves people and other dogs. Oriole was not quite sure why some of the dogs could not play with her at the vet today!
The boy that we have chosen to breed her with is a pretty handsome stud as well! His name is Rudy Two Shoes, we have used him before with Duchess and had some remarkable puppies. Below we have pictured Rudy Two Shoes.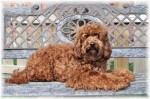 These are all multi-gen Australian Labradoodles. We will have apricot and cream large mini to medium non-shedding Australian Labradoodles puppies.
Find out more about Ashford Manor Labradoodles by calling
Cheryl at 765-714-1436
Cheryl Sabens
Ashford Manor Labradoodles
Australian Labradoodles Breeder in the Midwest
765-714-1436