Precious Mini Red Australian Labradoodles
These are beautiful puppies from Scarlet and Copper. They are going to be mini Australian Labradoodles in  beautiful red shades. These little sweeties are now 2 weeks old and are doing great! Little Scarlet is a wonderful mama who is very attentive to her little ones.
Meet our Chicago Cub Litter!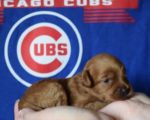 Congratulations Cubs on winning the World Series!
Cheryl Sabens
Ashford Manor Labradoodles
Australian Labradoodles Breeder
Home of the non-shedding dog
765-714-1436