The Australian Labradoodle is an amazing dog. They have so much to offer your family including being non-shedding dogs. We have availability July 2017 litters.
Here are the 6 week old pictures of Cutie & Rudy Two Shoe pups. They decided it was to hot here in Indiana outside at 94 degrees today and they played in the water and wrestled with each other between the photo shooting. They sure had a good time although they forgot that they were supposed to be looking their best for photos. Oh well, when does a puppy not romp in water when given the opportunity?
Here is the Basketball Team Litter
Boys
Girls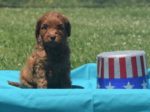 This next grouping was born on the same day and quite a bit smaller than the Cutie/Rudy 2 Shoes litter. This litter is from Pearl & Brantley Michael both who live here in Lafayette, Indiana. They are both on the smaller side and have produced a great bunch of puppies.
These little guys have had a big day and were not up for much photography. They just wanted to relax after the business of the day. Who could blame them in this heat and humidity here in the wonderful state of Indiana.
Here is the Brand Name Litter
Boys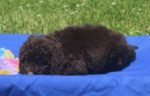 Girls
The little boy pictured on the green blanket in Pearl/Brantley's litter is available. He has a wonderful curly fleece coat which is ideal for allergy and asthma sufferers and are non-shedding dogs. His name is Nike and he is just a little doll, he loves to play as well as cuddle in your lap.
Visit our purchase page for more information
Cheryl Sabens
Ashford Manor Labradoodles
Australian Labradoodle breeder in the Midwest
765-714-1436