Paprika & Brandy Puppies all Grown Up
These puppies are so adorable, they live and romp together. They are definitely spoiled little pups!
This is Haymitch from Brandy & Jack's Litter
This is Violet from Paprika's 1st Litter
Double Trouble!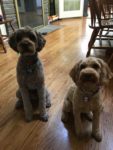 Some of our families have two of our Ashford Manor Labradoodles! We have sent two puppies home at the same time with great success and have had families take one Australian Labradoodle home and come back once they were trained for a second Doodle family member.
Cheryl Sabens
Ashford Manor Labradoodles
Australian Labradoodles Breeder
Home of the non-shedding dog
765-714-1436