Puppy Dog Treats
You have probably heard that bully sticks are not good to give your dogs. It is important to know what you are feeding your dog, and what the ingredients are. Unfortunately, many things people have fed dogs over the years are not necessarily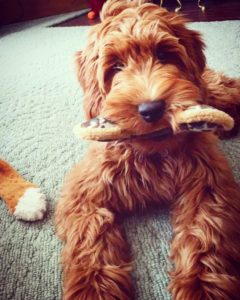 healthy for them including bully sticks. We want to make sure that our Australian Labradoodles have plenty of options so they do not chew on things they should not!
Do not fret there are great alternatives to bully sticks which are inexpensive, delicious, and nutritious for your canine friend. Some of them you may even have in your refrigerator or on your cabinet now. Here at Ashford Manor Labradoodles we try many different products on both puppies and adult dogs to see what they like and how durable they are.
Alternatives to bully sticks that our dogs love:
Sweet potatoes – remove the skin off and cut into slices or cubes
Apples – skin, core, and seeds removed
Carrots – wash and slice or serve whole baby carrots
Ice Cubes
Kong Classic filled with natural peanut butter or dog cheese spread (can be frozen)
Puppy tethers – we like the key shaped ones
Pigs Ear – must say all natural, grain fed, free range
Marrow bones
It is important to give your puppy things to chew on when they are getting their teeth, as it can be painful for your puppy. For adult dogs it is good to give your dogs things to chew as it can help with plaque build up, provide essential vitamins and minerals, and it is natural for dogs to want to chew. Give them something that would be suitable for them to chew on instead of getting into trouble.
As with anything please watch your furry friend and make sure they do not choke or eat to quickly. If they do cut the item into smaller pieces and use them as a reward, mix in with their food, purchase a slow feeding bowl, or get them a puzzle to find the treats or simply play hide and seek with the treats!
We choose healthy alternatives for your Australian Labradoodle!
Cheryl Sabens
Ashford Manor Labradoodles
Australian Labradoodle Breeder
765-714-1436