So we have 7 gorgeous Australian Labradoodle Puppies! We do have availability on this litter, they will be ready to go home on March 29th! The size of these puppies will be 20 – 30 pounds which is a mini and small medium Australian Labradoodle. The should stand from 16-18″ tall. 
A little about the parents before you see the beautiful Australian Labradoodle Puppies. Mom is a gorgeous lavender color, the sun shines and you rub your eyes because you see purple … yes, purple! She is a delight to our breeding program, and makes everyone laugh.
Dad is a dark chocolate in color, he is from Aussie Labradoodle in Ohio. Kodiak is a joy to the Lambert family and does all kinds of tricks! He is a very calm, gentle, smart boy. We have used Kodiak before and he produces such beautiful puppies as well.
A puppy from Brandy's first litter has gone on to become a diabetic alert dog. She has been trained by an expert in Indianapolis to be there for her family member who has diabetes. It is great to have dogs in your program that are able to assist people, one of the reasons they are bred.
Here is what you have been waiting to see … a few of Brandy's gorgeous
Australian Labradoodle Puppies!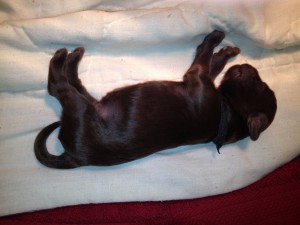 Ashford Manor Labradoodles is Indiana's breeder of the genuine multi-generational Australian Labradoodle. We are not a kennel, we generally only breed one dog at a time. We are convinced that the first 8 weeks of a puppies life is the most important of their lifetime. It is during this time that we love, nuture, and teach each and every puppy. Without proper training during these 8 weeks, it is possible you will have to undo a lot of things such as a strong fear from improper socialization.
Ashford Manor Labradoodles is a proud member of the Australian Labradoodle Association of America, the Goldendoodle Breeders, and the Premium Breeders List. We do health testing on our adults and look for other breeders who do the same.
Australian Labradoodles are non-shedding, allergy friendly, asthma friendly dogs. They were originally bred to be therapy and service dogs.
We take pride in each and every one of our
Australian Labradoodle Puppies!
Cheryl Sabens
Ashford Manor Labradoodles
765-714-1436