Crate training is an important part of getting a new puppy. It is imperative for you and your puppy that you use a crate as a safe place as well as an area to teach potty training. Find out more in our podcast.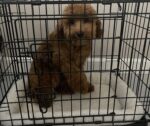 https://anchor.fm/cheryl-sabens/episodes/Why-Crate-Train-ep6enf
Make crate time a fun, safe place for your dog. Leave a crate up and they will enjoy it for life, especially when life gets crazy!
Cheryl Sabens
Ashford Manor Labradoodles
765-714-1436