Pet Food Recalls … Again!
We have just had word that there are several Pet Food Recalls going on again. Even going a raw diet sometimes isn't the answer. One of them is for Bravo brand in 2 pound tubes of chicken raw blend frozen food diet. There is a health risk for salmonella poisoning, this is a voluntary recall. Click Here for more information.
Another Pet Food Recall
Digging Your Dog Strippin' Chicks Pet Treats which have been distributed out of Colorado and Nevada have been recalled due to salmonella. This is also a voluntary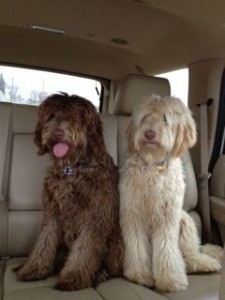 pet food recall for the 5 oz package which is to be used by 2-23-14. Click Here for more information.
As we have been seeing over the past year or so even the premium dog food companies have been having pet food recalls on their dog food or treats. This is very disturbing as a breeder we because we want to ensure that our dogs have optimum health and that our puppies are equally healthy! We do not want to take the chances with our puppies or dogs and we know that you don't either.
Don't take the chance of feeding your dog a food with a Pet Food Recall!
Ashford Manor Labradoodle feeds our dogs a premium dog food that has NEVER had a pet food recall! Yes, I said, "Never!" This company has been around for over a decade and still it never has had any pet food recalls.
Ashford Manor Labradoodles feed our Australian Labradoodle puppies and dogs a food that is
shipped to your door
comparably priced to other premium dog foods
sold in 8 lb, 20 lb, 40 lb bags
ships anywhere in the United States
no grain fillers (which are unhealthy for your dogs)
made of top quality ingredients
make a treat that is delicious
NEVER had a pet food recall
Your dogs will love to eat it!
CLICK HERE to learn more about a food that has never had a 
Pet Food Recall!
Ashford Manor Labradoodles is an Australian Labradoodle Breeder in Indiana. We are members of the Australian Labradoodle Association of America, the Premium Breeders List, and the Goldendoodle.com. All of these organizations are great in their own way, some are built only on customer comments, some keep track of our breeding information, and others just share valuable insights to Australian Labradoodle puppy owners! Don't be distraught … use Life's Abundance!
Find out more about Ashford Manor Labradoodles by calling us at 765-714-1436 today!
Cheryl Sabens
Ashford Manor Labradoodles
Indiana breeder of the Australian Labradoodle
Specializing in miniature and medium Australian Labradoodle puppies
765-714-1436