These photos taken today of Brandy's puppies are gorgeous! They are such beautiful puppies!
Ashford Manor's Boys
Well if that is not a beautiful array of color, I am not sure what is! There is a: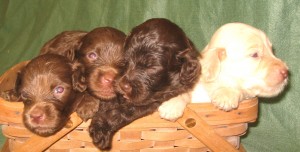 Chalk standard boy
Chocolate medium boy
Cafe standard boy
Lavender/Parchment medium boy
Ashford Manor's Girls
This is every color family of Australian Labradoodles except black! There is a:
Apricot Large Medium/Small Standard Girl
Cream Medium Girl
Chocolate Medium/Standard Girl
To reserve an Ashford Manor Australian Labradoodle puppy for your home, simply

click on this link

to get more details!
Ashford Manor Labradoodles is Indiana's responsible breeder of the Australian Labradoodle. We are members of the Australian Labradoodle Association of America (ALAA) and Premium Breeders List. We are located in central Indiana close to Chicago, Indianapolis, and Springfield, Illinois. We take great pride in each and every puppy we raise, making sure they are well socialized and more!