Ashford Manor has some gorgeous Standard and Medium Australian Labradoodles for Sale! They are 4 weeks old tomorrow and growing like little weeds! This is our first litter of doodles this large, and they are phenomenal! It is always amazing to watch new puppies come into the world and grow and develop so quickly. Although watching these standard size Australian Labradoodles is truly breathtaking! They can grow a pound in a week!
Standard Australian Labradoodles For Sale
These puppies are beautiful! The camera cannot even capture how gorgeous they are! The cream boy pictured on the far right is already over 3 pounds! There are pictures that show their bellies a little better too. The cream boy is like a mini polar bear! He is so fun and inquisitive. The apricot girl loves to pose, she has a lot of great poses. The chocolate boy was hard to capture, he just wanted to know what was going on everywhere!
Medium Australian Labradoodles In Indiana for Sale
This chocolate girl is just delightful. She is one who is very photogenic. Every picture of her is a good picture. She is going to be a medium weighing 20 – 30 pounds and standing 16 – 18″ tall.  She has a wonderful loving personality and loves to have her belly rubbed!
This dark chocolate boy is so mellow! He just stays where you put him, slightly looking around. He will just lay on your lap and snuggle up to go to sleep!
This boy is going to be the darkest of all the chocolates, he has a very rich dark coat. He will lighten up to some degree.
His size will be a medium. I am guessing he will be about 18″ tall and about 25 – 30 pounds. He will be on the small side of the medium Australian Labradoodles.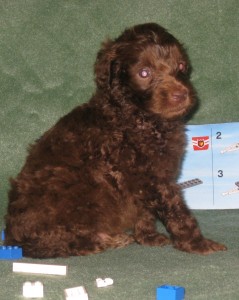 This handsome little boy is going to turn cafe color. You can already see the hair around is nose and mouth turning the beautiful cafe.
This boy is going to be a medium size, he is also currently very calm and mild mannered. At this age it is rare to have an Australian Labradoodle that has lots of energy. Our puppies are handled everyday which helps them to maintain the perfect temperament.
Ashford Manor prides ourselves in being a breeder who socializes their puppies very well. Each puppy lives in our home and is part of our everyday life. Currently my kids are playing games and they have a puppy joining them. Earlier today we were taking puppy pictures and then sat talking about the day/week ahead and were loving on puppies. Today alone about 3 hours out of 7 have been with these puppies!
This is our last puppy, she is a cream girl with a beautiful black nose! She is going to be a large medium or small standard. As you can tell from this picture she is a pretty hefty little girl!
This medium Australian Labradoodle also loves to have her belly rubbed. Today I was cutting her nails and she just laid perfectly while I massaged her tummy with my thumb and cut her nails with my other hand!
Ashford Manor Australian Labradoodles is Indiana's responsible breeder of the Australian Labradoodle. We raise our puppies in our homes and involved in our daily activities. Our puppies have their own room in our home, they do not spend time in the garage nor any outside building. They are never a nuisance, they are part of our family!
Ashford Manor is located 2 hours south of Chicago, Illinois, 1 hour north of Indianapolis, Indiana, 4 hours west of Columbus, Ohio, and 3 hours north of Louisville, Kentucky! If you are not within driving distance of West Lafayette, Indiana, we transport our puppies on Delta Airlines to an airport nearest you. Traveling by air is a very safe way for puppies to travel.
www.ashfordmanorlabradoodles.com/purchase
Cheryl Sabens
765-714-1436